GMC Sy/ Ty Fuel Pump Assembly (RXP255E)
FPA-013 - HP Fuel Pump Assembly GMC Syclone / Typhoon / S10 / S15
Racetronix Fuel Pump Assembly
The Racetronix FPA-013 high-performance fuel pump assembly is capable of supporting approximately 550RWHP* @ 13.5V @ 43.5PSI using the factory lines and fuel pressure regulator when installed in combination with our upgrade harness. HP support will vary based on motor B.S.F.C., maximum fuel pressure target A/F and supply voltage. Please factor in a 20% safety margin between what your motor needs and what your fuel system can supply.
This fuel pump assembly must be used with our fuel pump upgrade harness listed below due to poor factory fuel pump circuit design:
Please see our fuel pump system bundles listed below:
Check the condition of your bulkhead wiring. If it is poor condition contact our sales department before placing your order.

Please contact your local Racetronix dealer to discuss your fuel requirements
* This kit was engineered for use with the factory Delphi hanger 25093914 / HP10041 (pickup) or 25028845 / HP10004 (SUV). We cannot guarantee compatibility with aftermarket hangers. Please submit your VIN number via our contact us form if you are not 100% sure of your application. No returns on open-box pumps.
| | | |
| --- | --- | --- |
| MAKE | MODEL | YEARS |
| CHEVROLET | S10 | 1985-1991 |
| GMC | S15 | 1985-1990 |
| GMC | Sonoma | 1991 |
| GMC | Syclone | 1991 |
| CHEVROLET | S10 BLAZER | 1992-1994 |
| GMC | JIMMY | 1992-1994 |
| GMC | TYPHOON | 1992-1993 |
| OLDSMOBILE | BRAVADA | 1992-1994 |
Racetronix RXP255 255LPH turbine fuel pump with reduced noise and enhanced reliability with ethanol- enhanced fuels
Filter sock - 30 micron filtering
In-tank wiring harness / adapter
High pressure fuel line
Stainless gear clamps
Pump mount grommet
Pump sound insulation sleeve
OE-Style molded tank gasket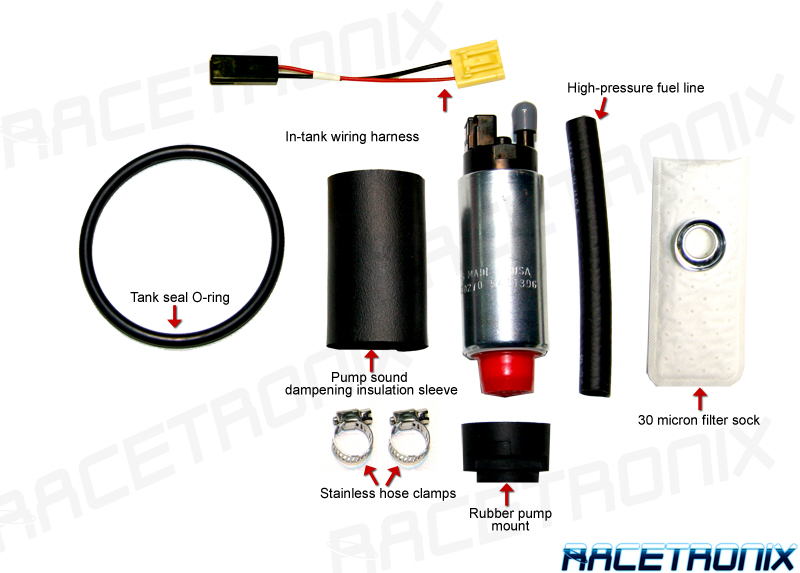 Parts currently in production may differ slightly from this image