Adapter, QDF 5/16"»QDM 5/16", 1/8" Port
QDA-56F56MP - Adapter, 5/16" Female QD to 5/16 QD Male, 1/8" FPT Gauge Port, Black


FEATURES:
5/16

" (8mm) female quick disconnect

5/16" (8mm) male quick disconnect

1/8" Female pipe thread port *

Viton© o-rings

Crecent-lock system

E-85 compatible

Black anodized aluminum
APPLICATIONS:
Fuel systems

E-vac systems

Vacuum / boost lines
Port may be used for standard gauge thread or fuel return


current production may vary from item image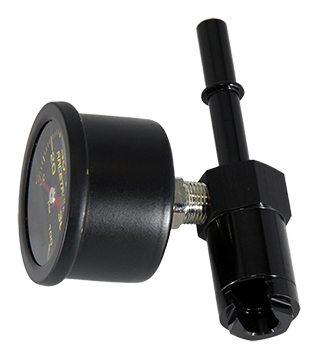 Gauge no included.
Racetronix QDA quick disconnect adapters are commonly used to adapt late-model fuel systems. QDA adapters are machined from high-grade aluminum and anodized for corrosion resistance. QDA adapters incorporate Viton© o-rings which are compatible with most types of fuel, solvents and oils. QDA adapters maintain a reliable leak-proof seal under normal fuel injection system operating pressures.
NOT RECOMMENED FOR USE WITH METHANOL, BRAKE FLUID OR NOBLE GASES