Fuel Rails, Billet Aluminum, LS2 - RED
FR-LS2A-2

- Racetronix LS2 Billet Aluminum Fuel Rail Set, RED
FEATURES:
Factory height

Accepts -8 ORB (o-ring boss) male fitting on each end

-8 ORB center drain plug (installed)

14mm injector bosses (factory size)

Aluminum mounting brackets (color-matched)

Stainless hardware

Smooth finish / Racetronix branded

Anodized aluminum, RED
APPLICATIONS:
LS2-type intake with factory height injectors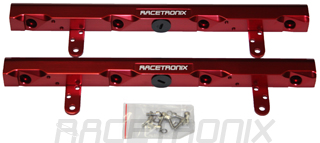 current production may vary from item image

current production may vary from item image
*FITTINGS NOT INLUDED
Racetronix Billet Aluminum Fuel Rails are the perfect upgrade for the factory LS2 fuel rails. These rails have a huge 3/4" bore from end to end for unbeatable flow capability and even pressure distribution for the most demanding HP applications. ORB o-ring fittings on each end eliminate sealing and cracking problems inherent to inferior fuel rails which use NPT pipe thread fittings. An additional -8 ORB port is located on the center / underside of each rail. The mounting aluminum brackets are color matched to the fuel rails. Stainless allen-head screws and washers are provided to secure the mounting brackets to the fuel rails. The factory 5mm bolts are used / required to secure the rails to the intake manifold.
Please view our selection of ORB adapters and fittings listed under add-ons to the bottom of this web page.
Additional plumbing solutions can be found in our HOSE, FITTINGS, ADAPTORS and ACCESSORIES section.