Fuel Tank, 2L, 8.6x5x3.5" Alum, BLACK
TANK-FT2LB - Fuel Tank, 2 Liter, 3 x -6 ORB Ports, Black

FEATURES:
2 Liter capacity

2 3/8" opening with collar and o-ring seal

3 x -6 ORB female ports

Integrated mounting bracket

220 x 130 x 90mm (8.6 x 5 x 3.5")

TIG Welded

Black anodized aluminum
The Racetronix mini fuel tank is perfect for applications requiring small capacity and size. It will easily accommodate most in-tank fuel pumps (one only). It may be used as a swirl pot in staged fuel systems typically required in cars where g-force can cause fuel starvation. The primary opening is 2.375" with a screw-down collar and recessed o-ring seal. Three female -6 ORB ports are located on top. All joints are TIG welded and leak checked.
Note: Slight imperfections in the aluminum surface may be visible due to the grain and the manufacturing process.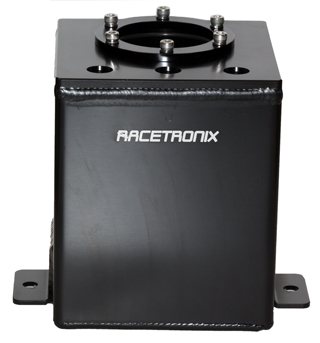 current production may vary from item image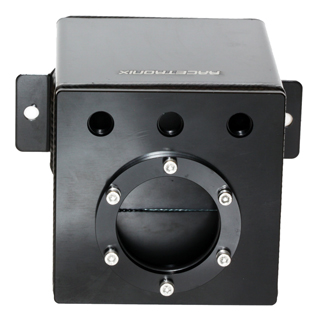 current production may vary from item image
Please view add-ons and related items listed below of this web page.