Loom, Fiberglass, 0.263" ID, Black 10'
LOOM-F-2-10 - Fiberglass Wire Loom, 0.263" ID, Black 10'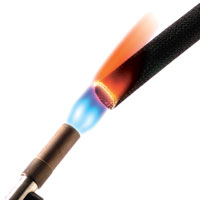 FEATURES:
Chemically inert construction protects engine cables and hoses from gasoline, motor oil, petroleum, and other harsh fluids

Tightly woven black finish adds a professional look and feel to high performance race cars, show cars, motorcycles and antique automobiles

Fray-resistant construction requires no specialized tools, and cuts cleanly with scissors for fast and easy installation

Minimal dusting occurs during cutting and handling, to greatly reduce irritation of the skin while providing an overall cleaner installation compared to similar fiberglass products

Available in a wide range of diameters to accommodate most cable management and protection needs

RoHS Compliant

Asbestos Free

Halogen Free
High temperatures, fire, and machine oils can pose a real threat to the cables, wires, and hoses that are necessary to keep hardworking engines and components up and running. Adding quality fiberglass braided sleeving products to exposed cables and hoses adds a wide range of benefits, such as: cable management, increased life, better performance, and long-lasting protection from the outside elements. Acrylic Resin Coated Fiberglass Braided Sleeving provides excellent continuous heat resistance up to 1,200° F (640° C) for exposed cables/hoses, while maintaining tight structural strength under constant vibration, mechanical stress, abrasion, and fluctuating temperatures.
This Non-Fray Sleeving is a flexible high-temperature insulation made from closely braided, continuous filament fiberglass which has been heat-cleaned to remove impurities in the yarn and to retard fraying. This loom is noncorrosive, nonflammable and not attacked by fungus. This loom will serve as secondary insulation unaffected indefinitely through a temperature range from -60°C to 316°C and withstand up to 616°C for shorter periods. Since there is no impregnant that will provide dielectric protection at those extremes, these sleevings require heavy or multiple-wall thicknesses if used as primary insulation.
This loom conforms to NEMA TF-2 and are made from glass fibers conforming to Military Specification MIL-Y-1140 (latest revision), Class C, Form 1 (continuous filament yarns). Under the Component Program of Underwriters Laboratories, all these Non-Fray Sleevings comply with VW-1 flammability requirements under UL File #E53690. They are incorporated in systems work, per UL Safety Standard 1446, to facilitate product acceptance by UL.