Loom, PET Woven Expanding, 2.0" Carbon
Item #:

299-PTN2.00CB
MPN : PTN2.00CB
299-PTN2.00CB - PET Woven Expanding, 2.0" Carbon


The FLEXO PET (PT) grade is used in electronics, automotive, marine and industrial wire harnessing applications where cost efficiency and durability are critical.
The unique braided construction and wide expandability allows quick and easy installation over large connectors and long runs. PT can be found in applications ranging from small office/home office to high tech wire and cable harnesses.
The wide range of available colors and sizes allows easy and systematic color coding in complex wiring and cabling schemes.
PT is braided from 10 mil polyethylene terepthalate (PET) monofilament yarns. The material has a wide operating temperature range, is resistant to chemical degradation, UV radiation, and abrasion. The sleeving cuts easily and cleanly with a hot knife and once installed, will beautify and protect any wire, hose or cable application.
Simple to install and terminate, Flexo PET is the ideal finishing touch on any wire management application.

Protecting wire harnesses is easy with Flexo PET. The 150% expandability makes
installation simple
and efficient.
Larger sizes of Flexo PET are perfect for managing bundles
of wires up to 4 3/4"
in diameter
Small sizes of Flexo PET can
be used to protect, identify
and color code multiple wires. With many colors to choose
from, even complex color
coding schemes are easily designed and managed.

Flexo PET resists damage from heat, vibration, common automotive chemicals and abrasion, making it perfect for automotive customization and renovation projects.
Specifications:
Physical Properties

Hard Vacuum Data

(ASTM E-595 at 10-5 torr)

Monofilament Thickness (ASTM D-204)

.010

TML

.19

Flammability Rating

UL-94

CVCM

.00

Recommended Cutting

Hot Knife

WVR

.16

Colors

35

Smoke D-Max (ASTM E-662)

56

Wall Thickness

.025

Outgassing

Medium

Tensile Strength - Yarn (ASTM D-2265) lbs.

7.5

Oxygen Index (ASTM D-2863)

21

Abrasion Resistance

Medium

Operating Temperatures

Specific Gravity

1.38

Minimum Continuous

-94°F/-70°C

Moisture Absorption % (ASTM D-570)

.1 - .2

Maximum Continuous (MIL-I-23053)

257°F/125°C

Melt (ASTM D-2117)

482°F/250°C

Chemical Resistance

1=No Effect 2=Little Effect 3=Affected 4=More Affected 5=Severely Affected

Aromatic Solvents

2

Alipahtic Solvents

1

Chlorinated Solvents

3

Weak Bases

1

Strong Bases

2

Salt Water (O-S-1926)

1

Hydraulic Fluid (MIL-H-5606)

1

Lubricating Oil (MIL-A-8243)

1

De-Icing Fluid (MIL-A-8243)

1

Strong Acids

3

Strong Oxidants

2

Esters/Keytones

1

UV Light

1

Petroleum

1

Fungus (ASTM G-21)

1

Salts

1

Halogen Free

Yes

RoHS

Yes

SVHC

None

UL/CSA

Yes
Sizes
Nominal
Size
Product
Part #

Expansion Range

Standard Spool Put-Ups

Bulk Spool

Shop Spool
Colors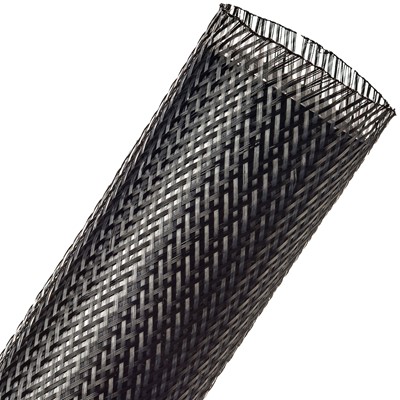 | | |
| --- | --- |
| MPN - Manufacturer P/N: | PTN2.00CB |