Professional Fuse Kit 340 Pcs (ATC/ATM)
RFK-002 - Professional ATC/ATM Fuse Kit, 340 Pieces

This kit is specially designed by Racetronix for professional automotive installers who require the most reliable fuses on the market. Racetronix supplies only Littelfuse U.S.A. brand fuses for the best possible circuit protection. Cheap fuses made offshore do not always blow at their rated current, which can leave a car stranded or cause an electrical fire. This kit is packed in a quality Plano Pro-latch case designed for use in shop environments (made in USA). A color legend is placed in the lid to help keep things organized.

This fuse kit is recommended for all automotive applications requiring standard ATC fuses:
Lighting

Fuel Pumps

Water Pumps

Ignition Systems
SPECIFICATIONS (KIT):
WIRE O.D. (mm): 3.45-4.30 (BLUE) 10-12 AWG

WIRE O.D. (mm): 1.60-2.15 (GREEN) 16-18 AWG

WIRE GAUGE (AWG): 10 Max.
KIT INCLUDES:
10 x 1 ATC Amp Fuse

10 x 2 ATC Amp Fuse

10 x 3 ATC Amp Fuse

10 x 4 ATC Amp Fuse

20 x 5 ATC Amp Fuse

10 x 7.5 ATC Amp Fuse

20 x 10 ATC Amp Fuse

20 x 15 ATC Amp Fuse

20 x 20 ATC Amp Fuse

20 x 25 ATC Amp Fuse

20 x 30 ATC Amp Fuse

10 x 35 ATCAmp Fuse

10 x 40 ATCAmp Fuse

10 x 1 ATM Amp Fuse

10 x 2 ATM Amp Fuse

10 x 3 ATM Amp Fuse

10 x 4 ATM Amp Fuse

20 x 5 ATM Amp Fuse

10 x 7.5 ATM Amp Fuse

20 x 10 ATM Amp Fuse

20 x 15 ATM Amp Fuse

20 x 20 ATM Amp Fuse

20 x 25 ATM Amp Fuse

20 x 30 ATM Amp Fuse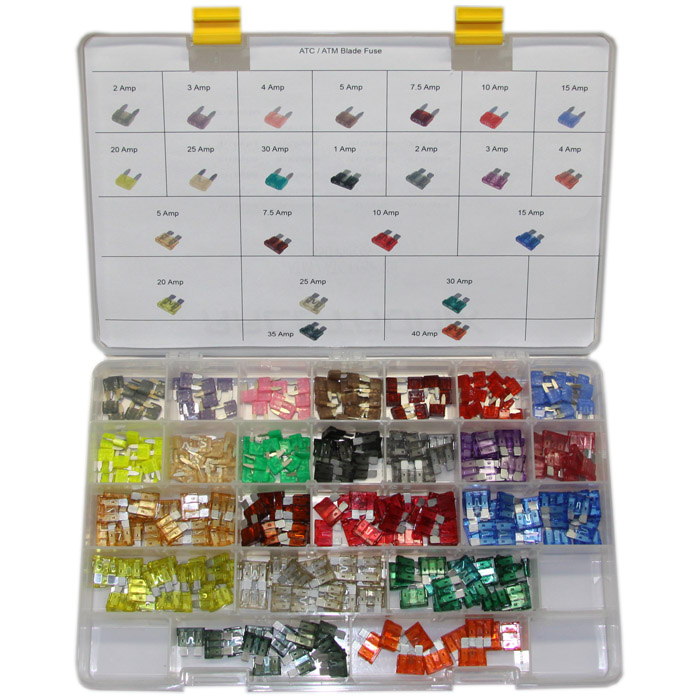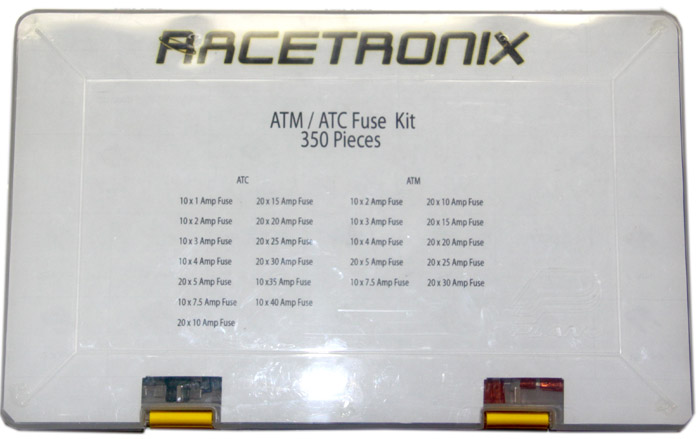 *Compartment box may vary