Silicone/Fiberglass Sleeve, Black 7/8"
Item #:

299-FIN0.88-BK
MPN : FIN0.88-BK
299-FIN0.88-BK - Silicone/Fiberglass Sleeve, Black 7/8"


Silicone jacketed fiberglass sleeving is the choice of professionals in racing and other industries where protection from constant temperatures approaching 500°F is mandatory.
FireFlex fiberglass/silicone sleeving is engineered to protect hoses, cables and wire harnesses from damage due to exposure to extreme heat, open flame, molten splash and welding sparks. The thick, high temperature fiberglass sleeve is jacketed with a non-permeable, heavy silicone coating that is flexible enough to follow tight radius curves, resists all automotive chemicals and solvents, and provides a substantial level of abrasion and puncture protection.
FireFlex is completely non-conductive, will not melt, delaminate, become brittle or support combustion under normal conditions, and provides a professional level solution to thermal protection needs in any application.
Specifications:
Physical Properties

Operating Temperatures

Flammability Rating

Non-Flammable

Minimum Continuous

-65F/-54C

Recommended Cutting

Scissor

Maximum Continuous (MIL-I-23053)

500F/260C

Colors

2

Melt (ASTM D-2117)

2.048F/1,120C

Wall Thickness

.072

Abrasion Resistance

Extermely High

Chemical Resistance

1=No Effect2=Little Effect 3=Affected4=More Affected5=Severely Affected

Aromatic Solvents

1

Alipahtic Solvents

1

Chlorinated Solvents

1

Weak Bases

1

Strong Bases

1

Salt Water (O-S-1926)

1

Hydraulic Fluid (MIL-H-5606)

1

Lubricating Oil (MIL-A-8243)

1

De-Icing Fluid (MIL-A-8243)

1

Strong Acids

2

Strong Oxidants

2

Esters/Keytones

1

UV Light

1

Petroleum

1

Fungus (ASTM G-21)

1

Salts

1

UL/CSA

No

RoHS

Yes
Sizes
Nominal
Size
Product
Part #
Wall
Thickness ±0.010"

Standard Spool Put-Ups

Bulk Spool

Shop Spool

7/8"


FIN0.75


.072"

Colors
Black
Red
Silver
Blue (Special Order)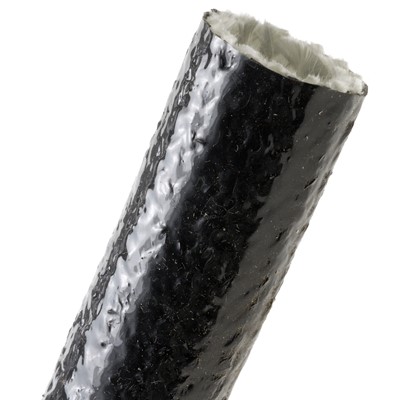 | | |
| --- | --- |
| MPN - Manufacturer P/N: | FIN0.88-BK |