Thermal Wrap, FG/Aluminized 4'x3/8"
Item #:

299-T6F0.38SV
MPN : T6F0.38SV
299-T6F0.38SV -Thermal Wrap, FG/Aluminized 4'x3/8"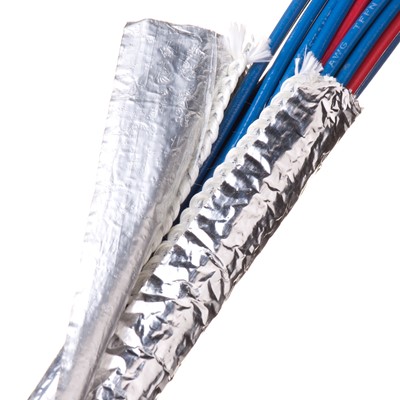 One of the most popular items in the ThermaShield line of aluminized fiberglass products, T6, is designed for ease of installation when component disassembly isn't practical. Just wrap the pre-formed, split flexible tube around any component and seal the sides with the high temperature adhesive strip to provide protection from hot pipes and engine components.
The highly reflective aluminized exterior, combined with the insulating fiberglass interior, protects delicate wire bundles, cables and lines from damage caused by nearby exhaust pipes, headers or other heat generating components.
ThermaShield T6 laminated sleeving is available in Silver.
Insultherm Spark Plug Boot Sleeves can rest directly on hot headers and other engine components without burning, melting or becoming brittle.
Specifications:
Physical Properties

Operating Temperatures

Flammability Rating

Non-Flammable

Minimum Continuous

-76°F/-60°C

Recommended Cutting

Scissor

Maximum Continuous (MIL-I-23053)

392°F/200°C

Colors

1

Melt (ASTM D-2117)

2,048°F/1,120°C

Wall Thickness

.042

Chemical Resistance 1=No Effect 2=Little Effect 3=Affected 4=More Affected 5=Severely Affected

Aromatic Solvents

1

Alipahtic Solvents

1

Chlorinated Solvents

1

Weak Bases

1

Strong Bases

1

Salt Water (O-S-1926)

1

Hydraulic Fluid (MIL-H-5606)

1

Lubricating Oil (MIL-A-8243)

1

De-Icing Fluid (MIL-A-8243)

1

Strong Acids

2

Strong Oxidants

2

Esters/Keytones

1

UV Light

1

Petroleum

1

Fungus (ASTM G-21)

1

Salts

1

Halogen Free

Yes

RoHS

Yes

UL/CSA

No
Sizes
Nominal
Size

Product
Part #
Wall
Thickness ±0.007

4' Pcs. Put-Ups

Available
Colors

Box 6x6

Box 4x4

3/8"


T6F0.38SV


.042"


250


90


50


30


Silver (SV)

| | |
| --- | --- |
| MPN - Manufacturer P/N: | T6F0.38SV |