Thermal Wrap, Flat Full Adhesive, 1.5"
Item #:

299-TSN1.50SV
MPN : TSN1.50SV
299-TSN1.50SV - Thermal Wrap, Flat Full Adhesive, 1.5"


ThermaShield creates a thermal buffer between your wires, hoses and cables and the high temperature environments surrounding them.
ThermaShield is engineered by laminating an aluminized metallic heat shield to a layer of strong, tightly braided fiberglass insulation. This system provides superior protection from radiant heat by reflecting it away from sensitive electronics, wiring and hoses.
The four styles of ThermaShield; Tube, Convoluted, Wrap and Flat provide a full range of solutions for any application. The Wrap and Flat products use a very aggressive, high temperature adhesive that eliminates the need for high-temp mylar tape or other adhesive.
ThermaShield products will endure temperatures up to 1,200°F without delaminating, turning brittle or suffering adhesive failure. They are ideal in any situation where protection from radiant heat is a primary concern.
ThermaShield laminated sleeving is available in Silver.
Specifications:
Physical Properties

Operating Temperatures

Flammability Rating

Non-Flammable

Minimum Continuous

-76°F/-60°C

Recommended Cutting

Scissor

Maximum Continuous (MIL-I-23053)

392°F/200°C

Colors

1

Melt (ASTM D-2117)

2,048°F/1,120°C

Wall Thickness

.042

Chemical Resistance

1=No Effect 2=Little Effect 3=Affected 4=More Affected 5=Severely Affected

Aromatic Solvents

1

Alipahtic Solvents

1

Chlorinated Solvents

1

Weak Bases

1

Strong Bases

1

Salt Water (O-S-1926)

1

Hydraulic Fluid (MIL-H-5606)

1

Lubricating Oil (MIL-A-8243)

1

De-Icing Fluid (MIL-A-8243)

1

Strong Acids

2

Strong Oxidants

2

Esters/Keytones

1

UV Light

1

Petroleum

1

Fungus (ASTM G-21)

1

Salts

1

Halogen Free

Yes

RoHS

Yes

UL/CSA

No
Sizes
Nominal
Size

Product
Part #
Wall
Thickness ±0.006"

Standard Spool Put-Ups

Available
Colors

Bulk Spool

Shop Spool

1 1/2"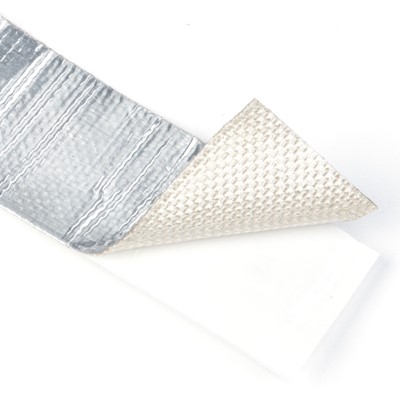 | | |
| --- | --- |
| MPN - Manufacturer P/N: | TSN1.50SV |