Woven, Split Tubular, Harness Wrap 5/8"
299-F6W0.63BK - Woven, Split Tubular, Harness Wrap 5/8"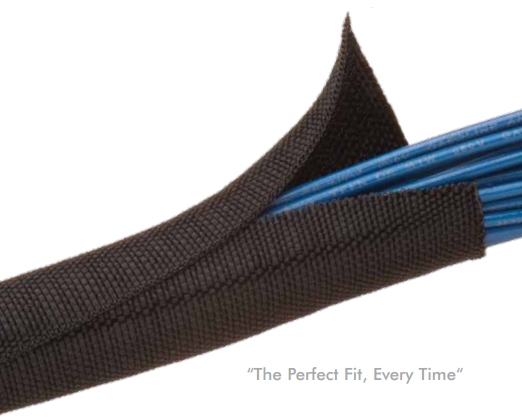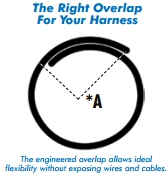 High Coverage

Easy, Cost Effective Installation

More Flexible than Split Convoluted or Spiral Wrap

Cut and Abrasion Resistant

F6 Woven Wrap has been engineered from the ground up to meet the demanding specifications of today's modern wiring harness industry. F6-WW utilizes many of the same characteristics as our original F6 split braided sleeving including the easy wrap around design and the extra overlap to insure complete protection of important electronic communication and power systems. The new woven construction provides superior elastic flexibility with unbeatable coverage over any harness assembly. Wire harness professionals will also appreciate the increased abrasion resistance F6-WW will provide to their cable assemblies.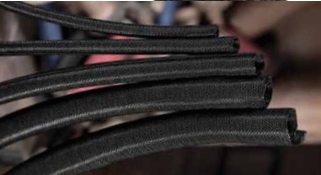 Techflex makes every effort to ensure accuracy and completeness when describing the technical properties of our products. Customers are encouraged to test and evaluate the products for their own unique requirements.
Physical Properties

Hard Vacuum Data (ASTM E-595 at 10-5 torr)

Monofilament Thickness (ASTM D-204)

TML

.19

Flammability Rating

UL-94

CVCM

.00

Recommended Cutting

Hot Knife

WVR

.16

Colors

1

Smoke D-Max (ASTM E-662)

56

Wall Thickness

.027

Outgassing

Medium

Tensile Strength - Yarn (ASTM D-2265) lbs.

7.5

Oxygen Index (ASTM D-2863)

21

Abrasion Resistance

Medium

Operating Temperatures

Specific Gravity

1.38

Minimum Continuous

-94°F/-70°C

Moisture Absorption % (ASTM D-570)

.1-.2

Maximum Continuous (MIL-I-23053)

257°F/125°C

Melt (ASTM D-2117)

482°F/250°C

Chemical Resistance 1=No Effect 2=Little Effect 3=Affected 4=More Affected 5=Severely Affected

Aromatic Solvents

2

Alipahtic Solvents

1

Chlorinated Solvents

3

Weak Bases

1

Strong Bases

2

Salt Water (O-S-1926)

1

Hydraulic Fluid (MIL-H-5606)

1

Lubricating Oil (MIL-A-8243)

1

De-Icing Fluid (MIL-A-8243)

1

Strong Acids

3

Strong Oxidants

2

Esters/Keytones

1

UV Light

1

Petroleum

1

Fungus (ASTM G-21)

1

Salts

1

Halogen Free

Yes

RoHS

Yes

SVHC

None

UL/CSA

Yes
Sizes
Nominal
Size
Product
Part #
Wall Thickness
Max

Standard Spool Put-Ups

Bulk Spool

Box A

Box B

5/8"


F6W0.63


.027"


250'


125'


75'