WRN-AN10 - Wrench, -10AN, Aluminum, PURPLE

FEATURES:
Works on fittings -10 AN / JIC

Anodized aluminum for reduced scuffing

Light weight

Color-coded
APPLICATIONS:
All aluminum fittings with hex bodies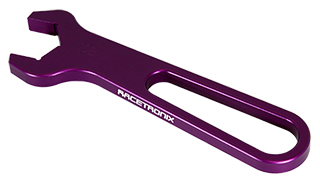 current production may vary from item image
This wrench is ideal for field assembly and service of high-performance aluminum fittings to prevent slippage and scuffing. All wrenches are color-coded for quick glance indentification.
For professional high-volume shop use or high-torque applications we recommend the use of a bench vise with our soft-jaws. We highly recommend the use of our hose fitting install kit and cool tool set listed under add-ons to the right of this web page.