Wrench, AN Fittings, Adjustable - RED
WRN-ANADJ - Adjustable Fitting Wrench, -3 to -16, T6 Aluminum, Red

FEATURES:
Adjustable hex fitting wrench

Works on fittings up to -16 AN / JIC

Anodized aluminum for reduced scuffing

Nut and socket scales

Light weight

4 Contact points reduces scuffing compared to other wrenches

6061-T6 red anodized aluminum
APPLICATIONS:
All aluminum fittings with hex bodies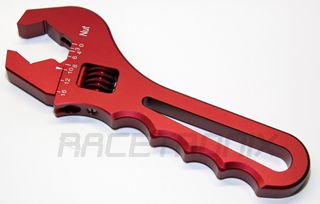 current production may vary from item image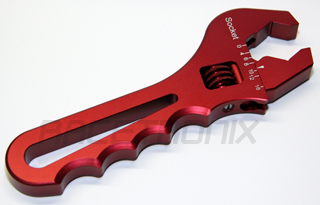 current production may vary from item image
Racetronix WRN-ANADJ wrench is ideal for field assembly and service of high-performance aluminum fittings to prevent slippage and scuffing. A single wrench is all that is needed saving time and space. Perfect for the track or the weekend mechanic.
For professional high-volume shop use or high-torque applications we recommend the use of a bench vise with our soft-jaws and our non-adjustable wrench sets. Racetronix will not cover damage due to over-stressing this product.