Catch Can Kit, Dual -10AN GV, Bkt, GOLD
CCK-2GV6ZY - Catch Can Kit, Dual -10AN, Glass View, Bracket, Gold


FEATURES:
Billet aluminum construction

Mounting bracket

Glass level window with graduations

-10 ORB ports (7/8"-14) top and side (2)

-6 ORB drain with plug (bottom)

Stainless steel cleanable and reusable filter media

Pressurized or vacuum applications

6 oz. capacity

O-ring canister seals

Stainless hardware

Gold anodized aluminum
An oil catch can is essential on a performance vehicle to protect the engine from elevated levels of crankcase blow-by accumulated from aggressive driving. Excess oil saturated air circulating back into the air intake stream can lead to degraded performance. Unlike many catch cans on the market, this catch can features an integrated oil separator that accelerates oil condensation. This stainless steel filter media is cleanable and reusable. The glass level window allows you to check the fluid level at a glance. These tanks can be configured to recirculate crank-case gases or be vented to the atmosphere using our optional SS breathers. The drain port's -6 ORB plug may be upgraded to our finger operated manual drain valve with 1/8" FPT drain port (FIT-UDV618). These accessories, fittings and hose are listed under add-ons on this page.
BENEFITS:
Effectively raises the octane and increases engine performance from cleaner inlet air

Prevents oil buildup in the intake, intercooler, throttle body, etc.

Excessive oil collection can be an indicator of a damaged engine


Lowers hydrocarbon emissions
DIMENSIONS:
64mm wide x 76mm deep x 148mm high
Please check our -10 ORB to JIC adapter fittings listed under add-ons to the right of this page as well as our other fittings and hose products in our web store >HERE<.
Note: Slight imperfections in the aluminum surface may be visible due to the grain and the manufacturing process.
ADD ONS:
Breather -8AN >HERE<
Breather -10AN >HERE<
Breather -12AN >HERE<
Adapter -10ORB Male 8AN >HERE<
Adapter -10ORB Male -10AN >HERE<
Adapter -10ORB Male -12AN >HERE<
Drain Valve -6ORB Male -1/8"NPT Female>HERE<
Fitting Push Lock -10AN Female >HERE<
Fitting Push Lock 45°-10AN Female >HERE<
Fitting Push Lock 90°-10AN Female >HERE<
Hose -10 Rubber Push Lock >HERE<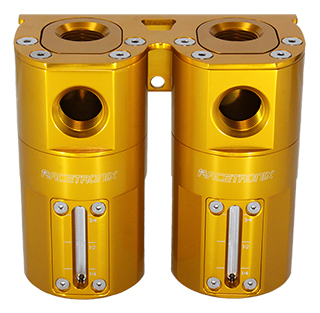 current production may vary from item image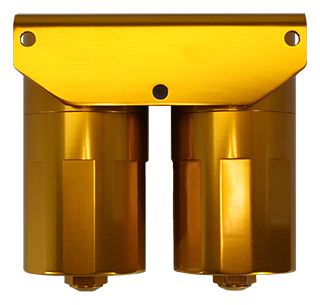 current production may vary from item image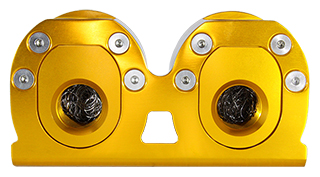 current production may vary from item image