Dual In-tank System Turbo Buick G7X 725LPH QD E100
DPFS-G7680EQ

-

725LPH E100 Dual In-Tank Fuel System 1984-87 Turbo Buick (DEALER ITEM ONLY)
SOLD THROUGH AUTHORIZED DEALERS ONLY! MSRP $799.99
FEATURES:
• Stainless-steel sender and pump mount

• Anodized billet aluminum pump coupler with E-85 compatible Viton o-rings, low-restriction flow channels = max pump performance

• Non-tapered pump outlet and return tubes for maximum flow / performance

• Tubes have smoother radius bends for maximum flow / performance

• Dedicated pump circuits with new bulkhead connector

• Two-piece dual power feeds with redundant grounds

• Heavy-gauge Teflon in-tank harness (E-85 compatible) with redundant grounds

• Pressure tested bulkhead / feed through connector

• Includes a new stainless-steel locking ring, OE-type tank gasket

• 2 x 30-micron Filter Socks

• 90 ohm ceramic level sender resistor (analog dash - standard)

• 120 ohm ceramic level sender resistor (digital dash - optional)

• Quick-disconnect 3/8" outlet and 5/16" return ports
*SPECIFICATIONS SUBJECT TO CHANGE WITHOUT NOTICE
Quick-disconnect adapters or a Racetronix fuel line kit with QD fittings must be purchased with this system to hook up the outlet and return lines. This system MUST NOT be used with factory fuel lines PERIOD!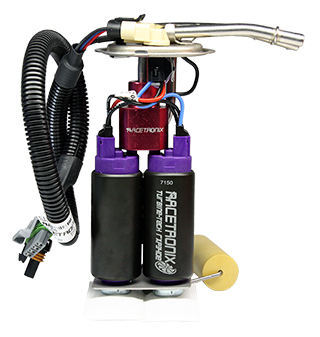 .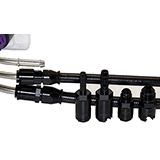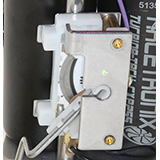 .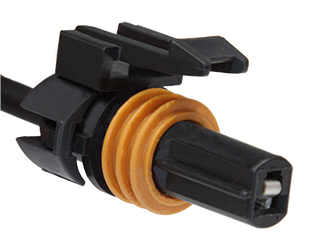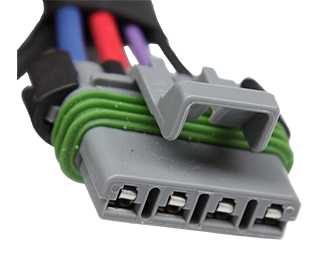 image may vary from current production

(click image to enlarge)
Please consider our Turbo Buick line kits with quick-disconnect fittings or our JIC/AN adapters for DIY lines shown above. Barb adapters MUST NOT be used with this system.

Upgraded lines are mandatory with this 680LPH system!
HD HARNESS FEATURES:

• Plug & Play (no cutting or splicing required)

• Weatherproof factory connectors

• Heavy-gauge automotive-grade copper wire on main power feeds and intermediate harness

• Heavy-duty weatherproof relays mount behind fuel tank (no under-hood clutter)

• Weatherproof dual fuse holder with stainless bracket (mounts on back of alternator)

• Pump power indicator lamp outputs

• Swap-able primary / secondary pump ground control connectors

• Alternator-direct power for maximum pump performance

• Silicon grease, spare fuse, wire ties included

• Stainless steel mounting hardware

• 15 PSI Hobbs pressure standard swich with interface harness (optional 4, 7 and 10PSI)
• Body ground upgrade with battery nuts (included)
* This HD DP harness is an upgraded version of our FPWH-021 harness only sold with our 680LPH DP senders.
HD FEATURES:
• 10-gauge wire on main power feeds

• 10-gauge wire on intermediate harness ultrasonically welded to bulkhead leads

• 30-amp Metri-Pack sender interface connectors

• Upgraded 10-gauge redundant grounding system
APPLICATIONS:
(1) May fit other G-Body cars with or without modification when being adapted to FI applications. NOT SUPPORTED BY RACETRONIX

Q1. Is the Hobbs pressure switch included with the DP system?
A1. A 15PSI Hobbs pressure switch and interface harness are included with the system as standard equipment. 15PSI is the best pressure at which to activate the secondary fuel pump in most Turbo Buicks. Ideally the secondary pump should be activated approximately 100HP shy of the primary pump running out of fuel to prevent pressure spikes or lean conditions. Some customers have computers which can control both pumps via the jumpers (shown in our picture) on our dual harness. Some customers have upgraded return lines and chose to run both pumps all the time. We recommend using either your computer or our Hobbs switch to control the secondary pump. This reduces the electrical load, fuel heating and wear on the secondary pump. The primary and secondary pump may be easily switched by swapping the control jumpers if you wish to balance out the run-time on the pumps. The DP harness comes with both control jumpers plugged in as shown in our ad. In addition to this the DP harness comes with a Weather-Pack connector so you can interface the secondary pump control to your aftermarket computer or any pull-to-ground signal.
Q2. Can other pumps be used in the DP sender as an option?
A2. We offer the RXP255 255LPH and RXP340M/E 340LPH pumps in our DP systems. Only pumps with a 22mm center inlet will fit our hangers and will fit through the tank opening side-by-side. It is a VERY tight fit. NOTE: WE DO NOT ACCEPT CUSTOMER-SUPPLIED PUMPS TO BE INCORPORATED INTO OUR DP SYSTEM.
Q3. Is this DP system E85 compatible?
A3. The DFPS-680EQ DP hanger uses Racetronix RXP340E pumps which are 100% Ethanol and Methanol compatible. True E85 factory certified systems have their electrical connections fully isolated from the fuel which is impossible given the Turbo Buick's tank design. Modern E85 Flex-Fuel systems are manufactured with special plastics and metals. Fuel system health will impact pump life.
Q4. I have your D-I-Y DP kit on a factory sender and I would like to upgrade / replace the sender. Can I buy the sender with the required parts?
A4. We no longer offer piece parts for DIY applications anymore.
Q5. Can the single Racetronix Hotwire Harness be used to power the new DP system?
A5. No it cannot. The harness for the DP system is very different in almost all aspects.
Q6. Can I buy the entire DP system in a D-I-Y format?
A6. We no longer offer the DP G7 D-I-Y kit.
Q7. I already have some other pumps. Can I use them with your system?
A7. NOTE: DUE TO PROBLEMS WITH CUSTOMER SUPPLIED PUMPS AND PRODUCTION FLOW ISSUES WE ARE NO LONGER ACCEPTING CUSTOMER-SUPPLIED PUMPS TO BE INCORPORATED INTO OUR DP SYSTEM NOR DO WE OFFER IT LESS PUMPS. ALL DP SYSTEMS ARE SOLD AS COMPLETE TESTED SYSTEMS.
Q8. I have a digital dash car. Do you have a sender for me?
A8. Yes, please specify the digital dash level sender option when ordering your system.
Q9. What size of fuel lines do you recommend with this system?
A9. We recommend conductive Teflon braided -8 feed and a -6 return line. We do not recommend any type of rubber (braided or not) for use with modern-day fuels. These Teflon lines will be more than able to support the full performance of our DP systems. Please view our G7 PnP fuel line kits by clicking > HERE <
Q10. Where is the biggest restriction in the fuel system?
A10. The factory steel lines running up the front of the motor.
Q11. Is the factory filter able to flow enough for the DP 680LPH system.
A11. A clean factory filter is adequate for two 340LPH pumps however minor contamination at this flow level will have a great impact on performance. We do not recommend most aftermarket cartridge paper filters or SS mesh filters. The idea here is to protect the motor, limit restriction and provide reasonable service life. We offer a fuel line kits with E85 compatible filter assemblies > HERE <.
Q12. Can I use a volt-booster with your system?
A12. Yes, we recommend a voltage booster for increased system voltage which benefits pump performance.
Q13. What brand of fuel pressure regulator do you recommend?
A13. Accufab (factory location / best option) or Weldon / Accel aftermarket fuel rail configurations.
Q14. Where do I get support and installation information?
A14. All technical and warranty support is now provided by your Racetronix dealer ONLY!
Q15-SPEC. What are the performance specs of the DP system?
A15-SPEC. These are the typical specs with 2 x 340ELPH pumps:
• xxxLPH @ 43.5psi @ 13.5v @ 22.5A
• xxxLPH @ 43.5psi @ 16.0v @ 27.5A
• xxxLPH @ 58.0psi @ 13.5v @ 24.5A
• xxxLPH @ 58.0psi @ 16.0v @ 29.5A
• xxxLPH @ 80.0psi @ 13.5v @ 28.0A
• xxxLPH @ 80.0psi @ 16.0v @ 32.5A
Q16. How much HP will this system support in a Turbo Buick? (Will it support my HP requirements?)
A16. Multiply your HP by 0.42 which will give you the required fuel in LPH with a 20% safety margin. You must consider the flow at your maximum boost pressure. For example, if you base fuel pressure is 43.5PSI and your your regulator increases 1LB of fuel pressure for every 1LB of boost and you run 20PSI of boost your maximum fuel pressure would be 63.5PSI. Using the flow data above, confirm that the DP system is able to provide the required flow at your maximum fuel pressure and voltage. This calculation does not factor restrictions in the fuel lines. Since the condition of each system tends to vary it is best to run a return flow test at max fuel pressure once the DP is installed to determine if upgrading the fuel lines is required. Note that some Racetronix customers have run mid 8-second 1/4 mile times at 160MPH+ using our 680LPH dual system, deluxe Teflon line kit on race gas.
Q17. Can I upgrade my 510LPH system to a 680LPH system?
A17. The 680LPH system has upgraded wiring from front to back in order to handle the higher power demands of the 340LPH pumps. There is currently no upgrade path for current production 510LPH systems. We do not offer upgraded wiring nor do we recommend running 340LPH pumps in our 510LPH system.