G7 Fuel Pump Kit, Type G75 84-86 RXP255E
RFPK-006-G75 - Turbo Buick Fuel Pump Kit G77 1986 1/2-1987 30 Y/O HANGERS WILL NOT RELIABLY SUPPORT PUMP UPGRADES - DISCONTINUED
PLEASE CONSIDER A NEW RACETRONIX SS HANGER WITH PUMP.

Racetronix Fuel Pump Kit
The RFPK-006-G75 is recommended for factory HP upgrades to 600FWHP @ 43.5PSI using the factory lines and fuel pressure regulator. HP support may vary for N/A or F/I motors. Please factor in a 20-25% safety margin between what your motor needs and what your fuel system can supply.

NOTE: We have had many customers indicate that the hanger wiring in their cars is not compatible with our in-tank harness. This is because in some cases GM used random inventory or the hanger has been replaced/serviced. Unless you are able to pull out your hanger and confirm that you have the G75-type in-tank harness and that it is in good condition we strongly recommend purchasing the BCWA-G77. Pending review, this may become a mandatory purchase due to the poor condition and varying types of early G75 hangers.

Please contact your local Racetronix dealer to discuss your fuel requirements
This kit was engineered for use with the factory Delphi G75-type hanger noted below. We cannot guarantee compatibility with aftermarket hangers.
Racetronix Fuel Pump Assembly
Racetronix RXP255 255LPH turbine fuel pump with reduced noise and enhanced reliability with ethanol- enhanced fuels

Filter sock - 30 micron filtering

I

n-tank wiring harness (no adapters)

High pressure fuel line

Stainless gear clamps

Pump mount grommet

Pump sound insulation sleeve

OE-Style molded tank gasket

Pump test lead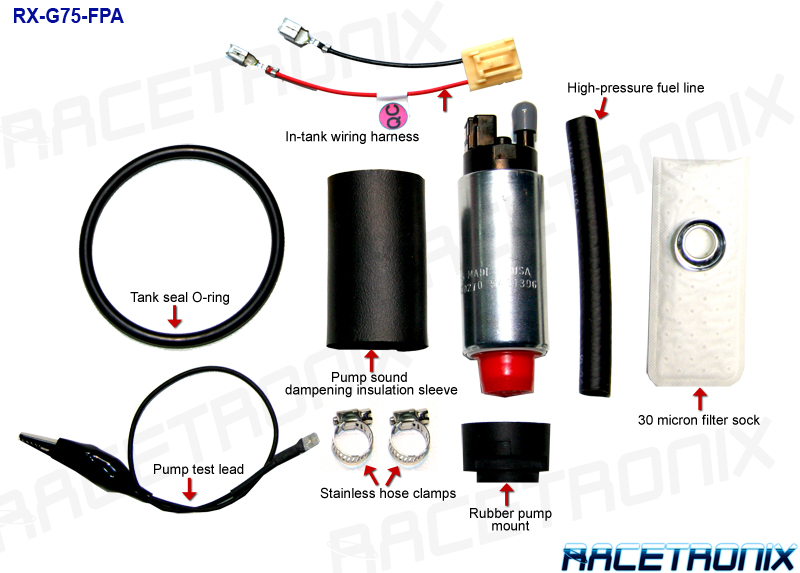 Parts currently in production may differ slightly from this image
Order the

G75

pump system if your sending unit has this connector with a

black, pink and tan wire

.

This connector is located on the driver's side behind the rear bumper. Typically found on 1984, 1985 and some 1986 Turbo Buick's. The connector color has no bearing on the sender type.

Order the

G77

pump system if your sending unit has this connector with a

black, violet and gray wire. This connector is located driver's side behind the rear bumper. Typically found on 1987 and some 1986 Turbo Buick's. The connector color has no bearing on the sender type.
Racetronix Fuel Pump Upgrade Harness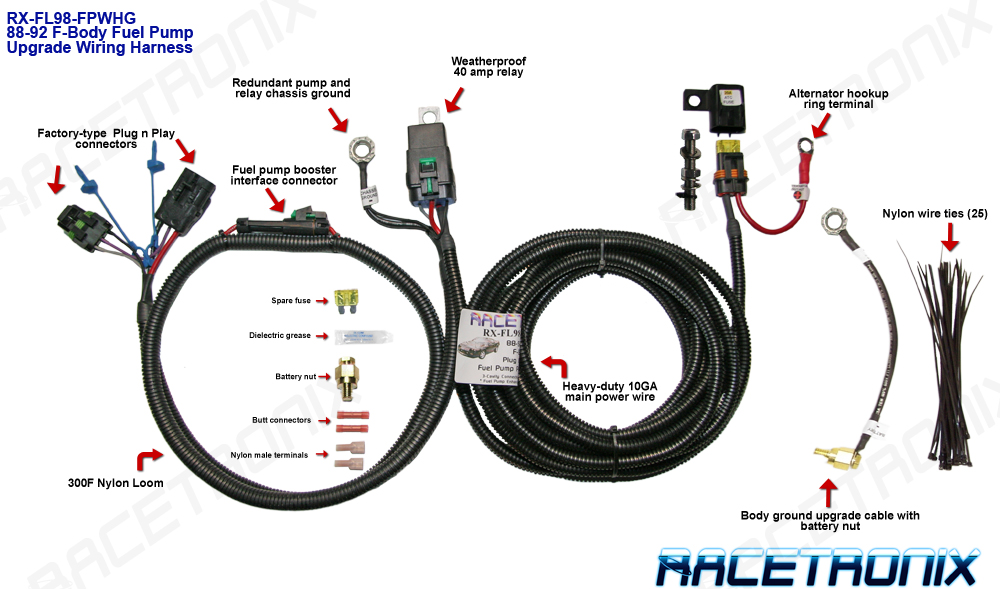 P

lug & Play (no cutting or splicing required)

Weatherproof factory connectors

Heavy 10 gauge automotive-grade copper wire

Heavy-duty weatherproof relay

Weatherproof fuse holder

Alternator-direct power for maximum pump performance

Silicon grease, spare fuse, wire ties included

Stainless steel mounting hardware

Body ground upgrade with battery nuts (optional)

Compatible with various pump boosters (i.e. KB, MSD) (optional)
The Wiring Harness aka 'Hotwire harness'
No cutting, splicing, crimping or soldering. Retain factory configuration. Just plug it in and you are done!
High performance fuel pumps need a good power source in order to perform to their full potential. On average a high-performance fuel pump requires twice as much power as a factory fuel pump. Factory wiring is just enough for a factory pumps power requirements because manufacturers need to save cost and weight. Racetronix field tests have shown that running a high-performance fuel pump off of the factory wiring can cut pump performance by 30% or more. Problems with failing factory relays, connectors/terminals and fuse contacts are also common when excessive load is placed on them.
The Racetronix plug and play harness is designed to remove all fuel pump load from the factory pump circuits while providing the pump with a new heavy-duty power source. The Racetronix harness gets its power directly from the alternator's battery terminal. The voltage at the alternators output is typically 1-2 volts higher than at the battery when the motor is running (high charge/load conditions and WOT). This means that your high-performance pump can provide as much as 20% more fuel in some cases. The Racetronix harness uses high-quality automotive-grade wire which is resistant to oil, gas, heat and rot. The main length of wire in the Racetronix harness is ten-gauge stranded copper. This is three to four gauges thicker than factory wire which helps reduce resistive power loss to almost non-existent levels. This helps improve pump performance by as much as another 10-20%. (Competitive harnesses typically use wire which is one gauge thinner than ours). High-quality weatherproof fuse holders and relays are used for maximum reliability. The Racetronix harness has factory-type weatherproof connectors which plug directly into your fuel pump module/sender so no cutting or splicing is required.
UNIQUE FEATURES:
REDUNDANT GROUNDING SYSTEM:
The Racetronix harness has a redundant ground upgrade as it is necessary to improve the pump's ground (-) supply as well. The Racetronix redundant ground upgrade clips onto the edge of the gas tank. Racetronix has integrated the harness ground into the main harness as a one piece assembly. The ground clip helps improve the tank and pump ground. All grounds (including the factory) are routed back to a common piercing ring terminal which provides direct ground from the large tank strap bolt and body. This provides superior clamping force and grounding. The weatherproof relay shares this mounting location so that no mounting holes must be drilled. Silicon grease is provided to coat the grounding clip and ring terminal in order to prevent corrosion.
Harnesses made by other companies do not have this unique feature but rather they require you to drill / tap holes in your car to attach a separate ground strap and mount your relay.To make matters worse they loop the factory ground in and out of the power feed connector to save the expense of running a dedicated wire. Running two wires into one seal does not allow it to seal properly so moisture could get in and corrode both the factory sender connector and upgrade harness.
The Racetronix harness is covered with Nylon loom (GM spec. GMP.PA6.003, -40ºF to 300ºF). Nylon loom is more flexible, slicker, shinier and has a higher temperature rating than the PE loom used by other vendors. Nylon loom provides superior protection and eases installation especially in colder climates.
POWER FEED:
Our power feed comes off the back of the alternator where voltage is highest. It then runs through a weatherproof fuse holder which is mounted on the back of the alternator with a supplied stainless steel bolt. The TR has an unused hole in the back of the alternator which facilitates this fuse holder mounting quite nicely. This location keeps the fuse holder out of sight and the unfused wire down to a short 4 inches. Our competition's fuse holder must be remote-mounted requiring self tapping screws / holes. The unfused section of wire extends to the firewall.
Racetronix supplies a spare 20A ATM fuse, 25 black vinyl wire ties, silicon grease and mounting hardware with each kit.
Racetronix harnesses are considered the best by which all others are judged. Attention to detail in every Racetronix harness is evident at first glance. Racetronix spares no expense to ensure reliability, ease of installation and performance.
All Racetronix harnesses are assembled using our computerized crimp-quality monitoring system and then circuit checked for the utmost in reliability. This Racetronix harness is backed by our limited lifetime warranty.
BGK
Some people make the mistake of assuming the thick black wire coming from the battery is a body ground. It is not. It is the motor ground and the motor sits on rubber mounts. Due to the age of the TRs we have seen some body grounds so bad that the lights flicker on the car when in motion. To address this problem Racetronix is offering a battery to body ground upgrade kit. This kit upgrades the thin ground wire running from the battery to the inner side of the passenger's fender wall. It includes an 8 gauge copper wire fitted with terminals and battery nuts with accessory taps.. One end attaches to BATTERY - and the other to BODY GROUND. No modifications to the factory battery terminals or boots are required. The new battery nuts have a bolt on top that allows connections to easily be made to the battery. Simply pop the old factory battery nuts out by pushing them out from behind and pop the new ones in. They even look good too. > BLING :) <