45° Adapter, -4AN»1/8" NPT Male, BLACK
ADF-482304 - Adapter, 45° -4 AN Male » 1/8" NPT Male, BLACK


FEATURES:
45° Adapter

-4 AN (JIC 37°) Male » 1/8" MPT (Male Pipe Thread)

Black anodized aluminum
APPLICATIONS:
Fuel systems

E-vac systems

Vacuum / boost lines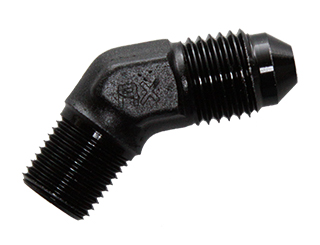 current production may vary from item image


Racetronix ADF adapter fittings are machined from high-grade aluminum and anodized for corrosion resistance. ADF adapter fittings are compatible with most types of fuel, solvents and oils.
Please view add-ons and related items listed to the bottom of this web page.