Filter Element #12, 60µ E85 Magnetic
FEM-1260 - Filter Element #12, 60-micron SUS304 , Magnetic E85
SUS304 Stainless media

60-micron rating

Magnetic pickup

E85 compatible

Black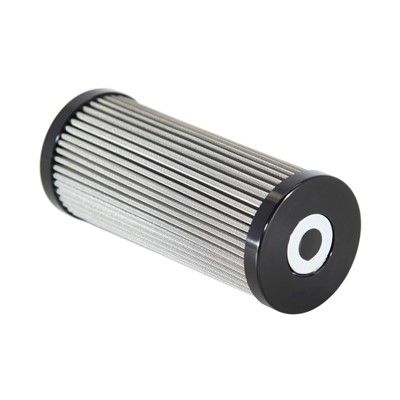 current production may vary from item image
Racetronix FEM assemblies are made from high-quality SUS304 filter media to protect your fuel system components from contaminants and potential engine damage. The FEM filter elements feature a magnetic pickup in the end of the filter to help enhance its ability to trap small metallic particles. These filter elements are compatible with gas, alcohol as well as most additives found in race fuel.
Racetronix recommends 10-micron elements on the outlet side (between pump and fuel injectors) 30-micron elements on the inlet side (suction) of fuel pumps for fuel injection applications. 60µ and 100µ elements may only be used as pre-filters where specified by the pump manufacturer.
FILTER HOUSINGS ARE VISIBLE ON THE RIGHT SIDE OF THIS PAGE UNDER ADD-ONS.
AVAILABLE ELEMENTS
PRE-FILTER
(BEFORE PUMP)

POST-FILTER
(AFTER PUMP)