Fuel Filter Housing, Ø61mm -12ORB, BLACK
Quick Overview
-12 ORB (o-ring boss) female In / Out, O-ring seal
Billet aluminum housing
Flow direction indicator
E-85 compatible, Black
NO ELEMENT. FILTER ELEMENT SOLD SERARATELY CHECK ADD ONS
Show More
FILTER-1212B - Fuel Filter Assembly, Billet Aluminum, -12 ORB In / Out, NO ELEMENT, Black
-12 ORB (o-ring boss) female In / Out
O-ring seal
Billet aluminum housing
Flow direction indicator
E-85 compatible
Black
NO ELEMENT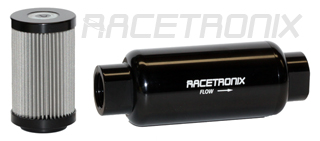 current production may vary from item image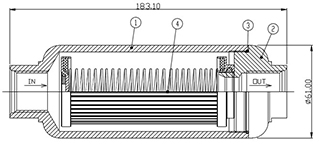 current production may vary from item image
p>Racetronix filter assemblies are an affordable, reliable and visually attractive way to protect your fuel system components from contaminants and potential engine damage. Unlike many aftermarket fuel filters which only offer 30, 60 or 100-micron filtering, Racetronix offers elements which filter particles down to 10-microns. This specification is comparable to factory filters which are designed to properly protect fuel injectors, check-valves, jet-pumps and other sensitive components found in late-model fuel injection systems. A magnetic pick-up is integrated into the filter to trap small metallic particles for added protection. Please select your required ORB adapter fittings, mounting bracket and elements listed under add-ons on this page.
Racetronix recommends 10-micron elements on the outlet side (between pump and fuel injectors) 30-micron elements on the inlet side (suction) of fuel pumps for fuel injection applications. 60µ and 100µ elements may only be used as pre-filters where specified by the pump manufacturer.
PLEASE SELECT A FILTER ELEMENT VISIBLE ON THE BOTTOM SIDE OF THIS PAGE UNDER ADD-ONS.
AVAILABLE ELEMENTS
ELEMENT µ

GAS

E85

PRE-FILTER
(BEFORE PUMP)

POST-FILTER
(AFTER PUMP)

10

OK

OK

NO

YES

30

OK

OK

OK

OK

60

OK

OK

OK

NO

100

OK

OK

OK

NO