Fitting, PTFE -6 »QD 5/16 Female FF, BLK
FIT-P6QDF56CL - Fitting, PTFE-6 Hose to 5/16" Quick-Disconnect Female Crescent-Lock, Black
FEATURES:
-6 PTFE SS Hose

5/16" (8mm) Female Quick-Disconnect

Cresent-Lock

E-85 compatible

Black anodized aluminum
APPLICATIONS:
Fuel systems

E-vac systems

Vacuum / boost lines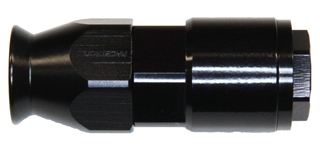 current production may vary from item image
Racetronix QD hose fittings are a unique solution which eliminates the need for AN/JIC to Quick-Disconnect adapters by placing the QD connection directly on the hose. This eliminates bulky ends which helps in tight places, it reduces cost and extra joints. Racetronix fittings are machined from high-grade aluminum and anodized for corrosion resistance.
Racetronix fittings incorporate Viton
®
o-rings which are compatible with most types of fuel, solvents and oils.