Fuel Sender, G7 SS w/525LPH E85, QD
Quick Overview
This product is sold through Racetronix authorized dealers
Show More
FPS-G7W525EQ

- G7 SS Hanger + Walbro 525LPH E85 Pump, Quick-disconnect QD
MSRP $396.99
FEATURES:
All stainless-steel construction

Non-tapered pump outlet tube for maximum flow / performance.

Tubes have smoother radius bends for maximum flow / performance

Dual 14-gauge circuits (vs. factory single 16-gauge ) for double current handling (28 amps) and reliability

Modular wiring harness allows for simple repairs

Includes a new stainless-steel locking ring, OE-type tank gasket

Upgraded grounding system

30-micron graded-media filter sock installed

New-style 90 ohm ceramic level sender resistor (digital dash 120-ohm sensor optional) (1)

New 30-amp power connector for improved performance

(2)

Custom SS removable pump mount

Quick-disconnect outlets (JIC adapters optional)
(1) For use with analogue dash only. Digital dash cars will need to add our optional 120 ohm level sensor.
(2) This hanger has a Delphi MP 280-series power connector so it will not plug directly into older hotwire harnesses. Our new heavy-duty FPWH-076 hotwire harness is highly recommended to reliably support this high-performance hanger Customers who can't afford to upgrade their current hotwire harnesses may use our FPAH-076 to adapt the power connector on this hanger to the factory-type Weather-Pack connector found on first-generation hotwire harnesses. This hanger MUST NOT be run off of the factory wiring PERIOD!

The factory return are lines too restrictive and not able to handle the fuel volume of this pump. This will cause the base fuel pressure to rise without allowing it to be turned down. The return line must be upgraded to -6 Teflon-lined hose.

We offer complete line kits shown under Add-ons on the right side of this page. For customers who have already upgraded their lines QD to JIC adapters are also listed.

Similar to Delphi FL0207, Spectra Premium FG156A
APPLICATIONS:
(4) May fit other G-Body cars with or without modification when being adapted to FI applications. NOT SUPPORTED BY RACETRONIX.
Shown with QD fuel lines attached (optional)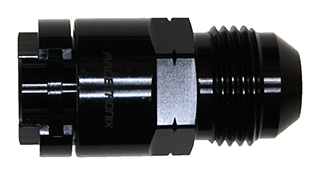 Shown with QD fuel lines attached (optional)
Quick-Disconnect to AN adapter shown above
Outperforms all current market in-tank fuel pumps

Designed for engines with more than 500 HP

Award-winning OE technology

High-pressure, high-flow performance

OEM technology designed and developed for E85

All pumping components have been validated to OEM specifications for approved use in E85/flex fuel applications
FAQS / QUESTIONS:
Q1. Can this be used with gasoline?
A1. Yes.

Q2. How much HP will this pump support?
A2. Multiply your HP by 0.42 which will give you the required fuel in LPH with a 20% safety margin. You must consider the flow at your maximum boost pressure. For example, if you base fuel pressure is 43.5PSI and your your regulator increases 1LB of fuel pressure for every 1LB of boost and you run 20PSI of boost your maximum fuel pressure would be 63.5PSI. Using the flow data above, confirm that this system is able to provide the required flow at your maximum fuel pressure and voltage. This calculation does not factor restrictions in the fuel lines. Since the condition of each system tends to vary it is best to run a return flow test at max fuel pressure once the system is installed to determine if upgrading the fuel lines is requiredv. (i.e. At a base pressure of 43.5PSI + 30LBS boost (73.5PSI fuel pressure) this pump will support apx. 900FWHP @ 13.5VDC.)