Fuel Tube, 500x8mm (100mm) , DWC, BLK
$7.00
per EACH
$166.25
$175.00
per 25 Pack
$315.00
$350.00
per 50 Pack
$595.00
$700.00
per 100 Pack
$1,400.00
$1,750.00
per 250 Pack
FFT-8X500S - Fuel Tube, 500x8mm, 5x100mm Sections, Dual-Wall, Conductive, Black

FEATURES:
Multi-sectional design 5 x 70mm convoluted flexible sections with 6 x 25mm straight sections for clamping

Made of high-tech plastic

Superior to all types of natural and synthetic rubber hoses (including SAE 30R7/9/10)

Highly resistant to solvents / chemicals in modern pump and race gas

Ethanol (E-10 / E-85) compatible

Convoluted construction allows for tight bend radius and resistance to kinking

Isolates / reduces noise which is a byproduct of pump pulsations

High-flow capacity

Dual-wall design for extended operating pressures

Conductive - dissipates static electricity

Mandatory for all modern cars and trucks which no longer use rubber components in their fuel system
Modern fuel systems no longer use rubber components because of their incompatibility with modern enhanced pump gas which contains ethanol and other solvents such as toluene, xylene and MTBE. Unlike these flex tubes, rubber hose will break down very quickly when exposed to these types of fluids. This will allow vapors to leach into the atmosphere and cause the hose to swell and burst. Rubber particles may also contaminate a modern fuel system causing jet pumps, siphon pumps, check valves, regulators, diverters and injectors to fail. When replacing a fuel pump in a new fuel system, it is imperative that a new fuel tube be used. Racetronix uses fuel tubes in all of its late-model fuel pump assemblies to guarantee compatibly and reliability with the factory fuel system.
Burst pressure 72-hour soak test:
Gasonline only > 2.5MPA (362.5PSI)

Gasoline + 20% Methanol >1.5MPA (217.5PSI)
Only the use of ear crimp clamps are recommended with these fuel tubes for proper sealing. These are listed under add-ons to the right of this page. Do not use gear clamps which will bind, pinch and cut into the plastic tube.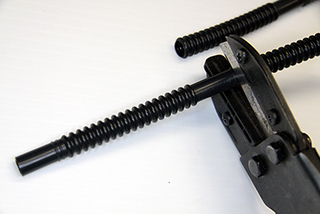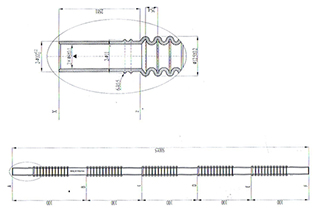 | | |
| --- | --- |
| Material: | NYLON |
| E85 Compatible: | YES |
| Methanol Compatible: | YES |
| Weight (non-shipping): | 16.1g |
| Pressure (Operating): | > 100 PSI |
| I.D. (Nominal): | 8mm |
| Pressure (Burst): | > 217 PSI |
| Length (Max Continuous): | 500mm |