Hose, -20 Rubber, SS, Nylon Cover, BLK
RBNH-20 - Hose, -20 Rubber, SS, Nylon Cover, BLACK
FEATURES:
Light-weight

Braided Nylon outer shield for abrasion resistance

Flexible stainless steel inner core for added strength

CPE synthetic rubber liner

-40°C to 100°C
APPLICATIONS:
Compatible with Methanol, oils, lubricants, E85, E10, coolant systems and vacuum applications

*

Compatible with most high-performance rubber hose fittings using standard AN bore sizes and outer diameters.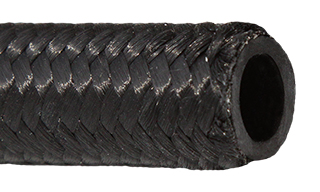 current production may vary from item image
Although most CPE high-performance rubber hoses are rated for use with various fuels, Racetronix doesn't recommend this. Regardless of the brand all CPE rubber hoses with break down over time when exposed to various fuels / solvents. The smell of gas around a parked vehicle in an enclosed space will be noticeable. Over time the CPE (rubber) liner will break down requiring replacement and potential fuel system contamination. Whenever possible Racetronix recommends the use of conductive lined PTFE (Teflon) hoses for long-term reliability when used in fuel systems. Please check our web store for our TFT series of conductive lined Teflon hose and compatible fittings.
Please view add-ons and related items listed to the bottom of this web page.
AN
I.D. (In)
I.D. (mm)
O.D. (In)
O.D. (mm)
Operating
Press
Burst
Press
Item Code
-4
7/32"
5.4mm
7/16"
11.2mm
500PSI
2000PSI
RBNH-4
-6
11/32"
8.7mm
9/16"
14.2mm
500PSI
2000PSI
RBNH-6
-8
7/16"
11.1mm
11/16"
17.1mm
500PSI
2000PSI
RBNH-8
-10
9/16"
14.2mm
53/64"
20.8mm
500PSI
2000PSI
RBNH-10
-12
11/16"
17.4mm
31/32"
24.4mm
350PSI
1400PSI
RBNH-12
-16
7/8"
22.2mm
13/64"
30.5mm
350PSI
1400PSI
RBNH-16
-20
1-1/8"
28.5mm
1-13/32"
35.81mm
350PSI
1400PSI
RBNH-20