Professional Mini-Fuse + Connector Kit
RFK-001 - 280-Series Professional Fuse Kit, 502 Pieces

This kit is specially designed by Racetronix for professional automotive installers who require the most reliable fused circuits and easy installation. This kit offers an affordable and flexible alternative to pre-made offshore molded fuse holders that are not weatherproof and are known to arc, melt and fail. These OEM-type fuse holders can be added in-line to any wire on or off the car. Racetronix supplies only Littelfuse U.S.A. brand fuses for the best possible circuit protection. Cheap fuses made offshore do not always blow at their rated current, which can leave a car stranded or cause an electrical fire. Racetronix supplies 65 of each terminal and seal type to complete all 30 connectors in any wire gauge of choice. This kit is packed in a quality Plano Pro-latch case designed for use in shop environments (made in USA). A color legend is placed in the lid to help keep things organized.

PRODUCT FEATURES:
Weatherproof Metri-Pack 280-Series connectors with silicon seals and terminal locks

Fuse caps with mounting brackets

Terminals which accept 18 to 20 gauge wire (65 / 65 = enough to complete all 30 assemblies in either gauge with spares)

Up to 30 amp current capacity (when used with proper gauge wire)

Silicon wire seals

Littelfuse U.S.A. brand fuses for reliable circuit protection

T-18 'B' crimpers designed to properly form the terminals around the wire conductor as well as the silicone seals

Terminal release / removal tool

Heavy-duty Plano Pro-Latch molded plastic case made in U.S.A.

Color insert / legend
This fuse kit is recommended for all automotive applications requiring standard ATC fuses:
Lighting

Fuel Pumps

Water Pumps

Ignition Systems
SPECIFICATIONS (KIT):
WIRE O.D. (mm): 3.45-4.30 (BLUE) 10-12 AWG

WIRE O.D. (mm): 1.60-2.15 (GREEN) 16-18 AWG

WIRE GAUGE (AWG): 10 Max.
KIT INCLUDES:
10 x 2 Amp Fuse

10 x 3 Amp Fuse

10 x 4 Amp Fuse

10 x 5 Amp Fuse

10 x 7.5 Amp Fuse

20 x 10 Amp Fuse

20 x 15 Amp Fuse

20 x 20 Amp Fuse

20 x 25 Amp Fuse

20 x 30 Amp Fuse

30 x 2 Way Female Connector Body

30 x 2 Way TPA Lock

30 x Connector Fuse Cap

65 x Female Terminals (5.00-3.00mm) 12-10 AWG

65 x Female Terminals (1.00-0.08mm) 16-18 AWG

65 x Cable Seals (Green)

65 x Cable Seals (Blue)

1 x Terminal Removal Tool

1 x Terminal / Seal Crimper
NOTE: Proper B-type crimpers and soldering equipment are recommended to properly assemble this connector set.
CONNECTOR SPECIFACTIONS:
CURRENT RANGE (AMPS): 0-30

TEMP RANGE °C: -40 to 125

RESISTANCE: [email protected]

VOLTAGE DROP: <3.0mV/amp

CENTERLINE SPACING (mm): 7.7

BLADE WIDTH (mm): 2.8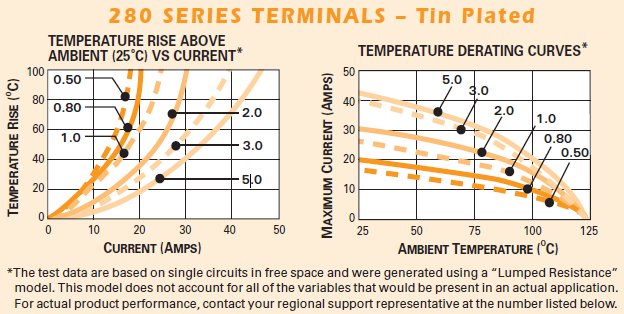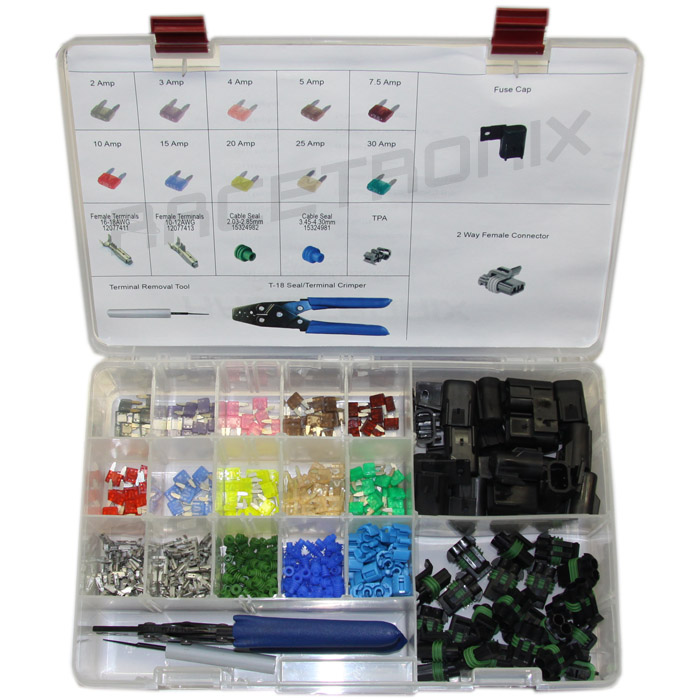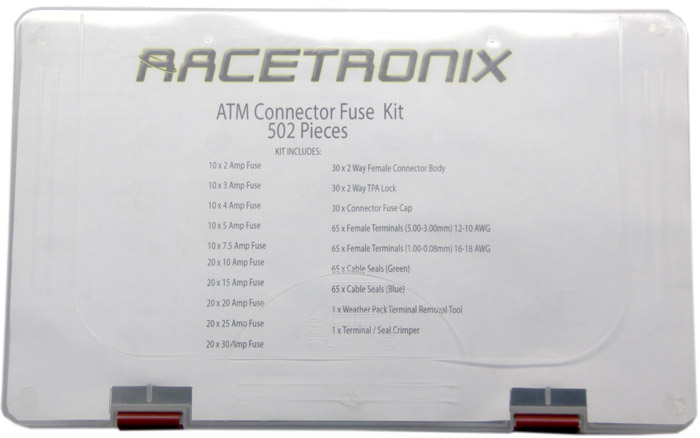 *Compartment box may vary