255LPH Fuel Pump, High Pressure/Volume E85
$69.99
per EACH
$631.66
$664.91
per 10 Pack
$1,497.13
$1,618.52
per 25 Pack
$2,834.60
$3,149.55
per 50 Pack
$5,358.61
$6,124.13
per 100 Pack
RXP255E - 255LPH E85 Fuel Pump - High Pressure / Volume, 22mm Inlet

FEATURES:
New 100% Ethanol compatible
255 LPH+ (67 US GPH) @ 43 PSI @ 13.5V * (min) (275LPH nominal)
In-tank use only / submersible design
Reliable and quiet turbine impeller
Can be used with EFI or carbureted applications
May be used in pulse modulated systems (PWM)
Center-inlet design. Same fitment as Walbro GSS340(M), GSS307(M) and GSS294M pumps.
Each pump individually tested
For use with gasoline and up to 100% Ethanol
Integral check-valve
Over-pressure safety bypass valve 110PSI
Standard Walbro / Tyco electrical connector offers plug & play compatibility with pre-existing wiring. No need for extra in-line connectors found on all other E85 pumps.
MECHANICAL SPECS:
Weight: 355 grams / 0.783 lbs
Diameter: 38mm / 1.54" O.D.
Body: Black-plated steel with laser etching
Inlet: 22mm / 0.866" OD (non-tapered)
Outlet: 8mm / 0.315" (with barb)
PRV Activation: 90PSI nominal
Impeller design: Single-scroll hard-anodized aluminum turbine
ELECTRICAL SPECS:
Recommended operating voltage: 13.5 volts DC
Minimum operating voltage: 6 volts DC
Max operating voltage: 18 volts DC
Current draw @ 43.5PSI: 8 amps (13.5VDC)
Current draw @ 58.0PSI: 10 amps (13.5VDC)
Current draw @ 80.0PSI: 12 amps (13.5VDC)
NOTES:
REQUIRES UPGRADED IN-TANK AND EXTERNAL WIRING FOR PROPER OPERATION.
THIS PUMP IS SOLD WITHOUT ANY WIRING, FILTERS OR MOUNTS. SELECT THE PARTS YOU REQUIRE IN OUR WEB STORE BASED ON YOUR APPLICATION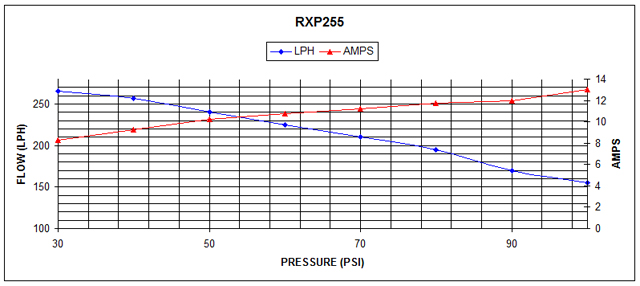 | | |
| --- | --- |
| AFN - Stickered?: | False |
| Allow BackOrder (taking orders)?: | False |
| REPRICE (checked for yes): | False |
| eBay AUCTION?: | False |
| DNI Ebay BestOffer: | False |
| CA - LabelRemoved: | False |
| KILL - ChannelAdvisor: | False |
| CA - ItemKilled: | False |
| AllowCC: | True |
| DNI - ChannelAdvisor: | False |
| DNI - Amazon Marketplace: | False |
| DNI - eBay: | False |
| is_FBA: | False |
| is_SFP (SellerFulfilledPrime): | False |
| bullet 1: | |
| bullet 2: | |
| bullet 3: | |
| bullet 4: | |
| bullet 5: | |
| Custom Condition (amazon/channel): | |
| MARKETPLACE WEBDESC: | |
| Amazon Item Type Keyword: | |
| Amazon Title (200) Override: | |
| Ebay Title (80) Override: | |
| ChannelAdvisor Title (120) Override: | |