Filter Sock, In-Tank Fuel Pump (NEW F98)
WFS-06 - Racetronix F98 / FPA-002 / FPA-017 Filter Sock Assembly

Custom 11mm F98 filter sock assembly used in the Racetronix 1998 F-Body Fuel Pump Assembly (F98 / FPA-002) manufactured 2009 and later shown below. Please view image below to confirm sock type. If your sock uses the older 22mm inlet ring adapter (not shown) please contact our sales dept. for a replacement.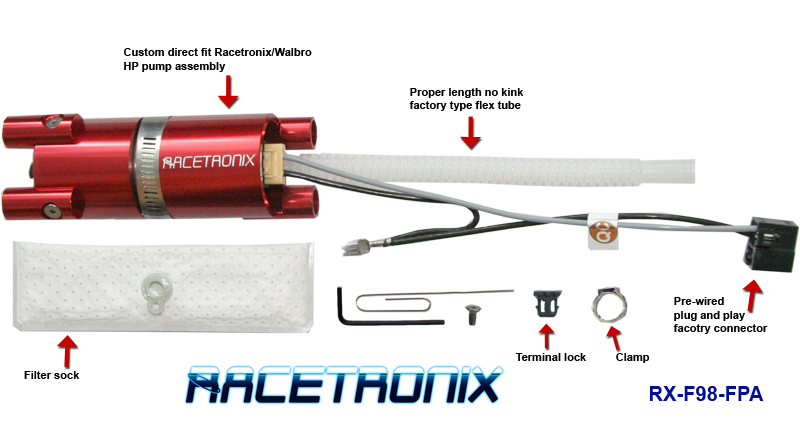 Description
Item Code
Racetronix F98 / FPA-002/
FPA-017 Filter Sock Assembly
WFS-06
11mm FFS, 55 x 50mm
FFS-017A
11mm FFS, 78 x 85mm
FFS-250G
11mm FFS, 155 x 50mm
FFS-240G
11mm FFS, 78 x 85mm
FFS-251
11mm FFS, 79mm Round
FFS-040
11mm FFS, 92.5 x 55.5mm
FFS-061
22mm FFS, 104 x 42mm
FFS-122A
11mm FFS, 100 x 40mm
FFS-220
19mm FFS, 200 x 60mm
FFS-260G
19mm FFS, 145 x 42mm
FFS-111A
19mm FFS, 104 x 42mm
FFS-169
22.3mm FFS, 144 x 37mm
FFS-057
22mm FFS, Corvette C56
Modules
FFS-C56
22mm FFS, 135.8 x 55mm
FFS-021
77mm Round x 22mm Inlet
FFS
FFS-015A
77mm Round x 19mm Inlet
FFS
FFS-015